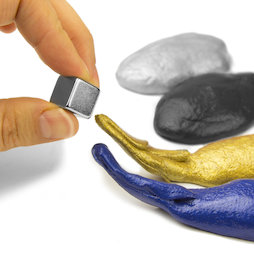 Smart putty magnetic
ferromagnetic putty, different colours, magnet not included
Please select your desired model.
Description
The magnetic smart putty impresses with cool tricks and fascinating effects. As soon as a super magnet comes close, it seems as if the magnetic smart putty comes to life.
Since the putty contains ferromagnetic microparticles, it is attracted by magnets. It gets totally bent out of shape in order to follow a magnet. The stronger the magnet, the more impressive are the reactions of the putty. The putty comes in a practical tin box, but
withouth
magnet.
Other nice characteristics of magnetic smart putty:
Does not contain water and therefore does not dry out
Does not stick or stain and is not greasy - keeps hands clean
Is nontoxic and therefore suitable for children 4 years and older (as long as the children only work with the putty - strong neodymium magnets should not be in the hands of children under 14)
Read about more features and tips
Technical data
| | |
| --- | --- |
| Article ID | M-PUTTY-FERRO |
| Table of Contents | 80 g |
| Weight | 140 g |