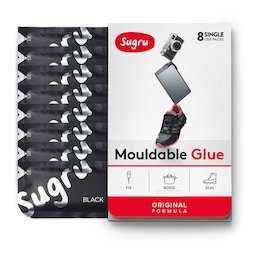 Sugru Set of 8
mouldable glue, in different colours, packages of 5 g each
Please select your desired model.
Description
Sugru is a mouldable glue. It feels like putty and is just as easy to use. Simply mould it by hand and put it in place, let it harden overnight at room temperature, done! Sugru is very robust and can be attached in extreme surroundings: in the dishwasher, freezer, on a pot lid, etc. Sugru features:
Mouldable for 30 minutes
It is possible to drill or screw in Sugru before it hardens
Self-hardening; completely hardened after 24 hours drying time
Stays flexible after drying
Resistant to chemicals and UV rays
Skid-proof
Electrical insulating & sealing
Waterproof; suitable for outdoor use
Heat-proof up to 180 °C
Cold-resistant up to - 50 °C
Removable without residue with sharp knife or scalpel
You receive a set of eight individually shrink-wrapped portions of Sugru. There are many different colours to choose from.
Read about more features and tips
Technical data
| | |
| --- | --- |
| Article ID | SUG-08 |
| Brand | Sugru |
| Weight | 69 g/set |