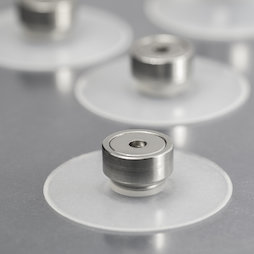 Suction cup magnet Ø 50 mm extra-strong
with pot magnet with internal thread Ø 20 mm
Description
This article is remaining stock. As soon as the inventory is sold, it will be taken out of the assortment.
This suction cup with a 50 mm diameter is screwed together with a pot magnet with an internal thread on the back side. You can use it to temporarily hang up heavy ferromagnetic objects such as a large metal sign.
Please note:
Surface requirements for suction cups: The surface needs to be completely smooth and clean (free from grease and dust) before attaching the suction cup, which needs to be clean as well.
Don't put suction cup magnets in places with high temperature and humidity fluctuations, which can quickly lead to a loss of suction power.
The embedded magnets will start to rust in wet surroundings such as the kitchen or bathroom at some point, so you will have to exchange them.
Read about more features and tips
Please note

Do not attach heavy or breakable objects to the suction cup magnets as they may not be adhering well enough. If the suction cup detaches and the object drops it may damage the counter or floor below.
Technical data
| | |
| --- | --- |
| Article ID | M-SN-06 |
| EAN | 7640155439589 |
| Material | NdFeB |
| Diameter suction cup | 50 mm |
| Diameter | 16 mm |
| Height | 20 mm |
| Material suction cup | Silicone |
| Magnet | Pot magnets 20 mm with internal thread |
| Thread M | 5 |
| Magnetisation | N38 |
| Adhesive force of the magnet | 6 kg |
| Weight | 24 g |