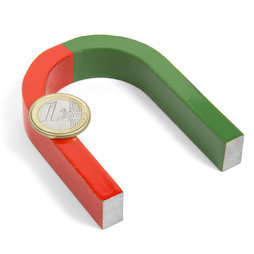 Horseshoe medium
80 x 60 mm, AlNiCo5, red-green coated
Description
Horseshoe magnet (medium)

The AlNiCo horseshoe magnet is 80 mm x 60 mm big and red-green coated. The north pole is located on the red end. The horseshoe magnet is well packaged for shipping, the poles are short-circuited with a magnet keeper. These classic horseshoe magnets are popular in school experiments.

Almost all magnets on our website are made of NdFeB (neodymium iron boron). These horseshoe magnets are of a different material however, AlNiCo (aluminium nickel cobalt as well as iron). AlNiCo is better suitable for horseshoe magnets because it is less brittle and much more heat-resistant (up to approx. 450 degree Celsius). However, AlNiCo is approx. 8 times weaker than NdFeB, but still much stronger than a ferrite magnet (=refrigerator magnet). A NdFeB magnet in a horseshoe shape would break too easily and therefore is not produced in this material.
Read about more features and tips
Technical data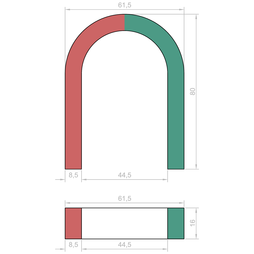 | | |
| --- | --- |
| Article ID | EDU-4 |
| EAN | 7640155431767 |
| Weight | 170 g |