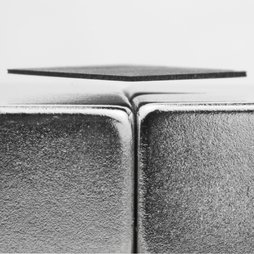 DIALEV
set for levitation experiment, with floating diamagnetic graphite plate
Please select your desired model.
Description
This article is remaining stock. As soon as the inventory is sold, it will be taken out of the assortment.
Actually, the DIALEV shouldn't even exist! An object that steadily levitates in the air, without electronic regulation, wire, cord or batteries? That doesn't work. Or does it?
The name "DIALEV" is derived from DIAmagnetic LEVitation. The DIALEV is a graphite disc that permanently levitates approx. 1 mm above four strong neodymium magnets. The magnets and graphite disc are packaged in a massive wooden box. The wooden box measures 50 x 50 x 36 mm. A metal disc is embedded in the top cover, which magnetically locks top and bottom.
During transport, the disc is locked into position with a thin strip of magnetic sheet. Before you pack it away again, place the foil on top of the disc to prevent the brittle graphite from being damaged. The DIALEV will be delivered in a black gift box, a
manual in six languages
is enclosed.
Read about more features and tips
Technical data
| | |
| --- | --- |
| Article ID | DLD-01 |
| Weight | 140 g |