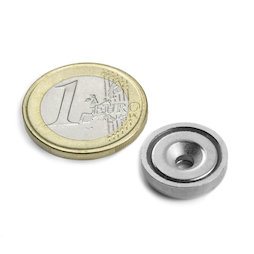 Countersunk pot magnet Ø 16 mm
strength approx. 6,9 kg
Description
Bestseller: More than 1 800 000 sold!
This pot magnet has the same dimensions as
CSN-16
, but with a thicker steel pot and, hence, a higher adhesive force. It can be fastened with a
countersunk screw
. It is one of our bestsellers and is popular with private customers as well as business customers in the areas of store/plant construction, machine building, lighting and interior fittings.
Read about more features and tips
Technical data