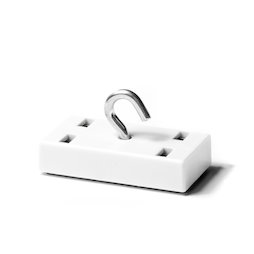 Sandwich magnet with hook
ferrite magnet system in plastic housing, rectangular, 53 x 27,5 mm
Description
This simple hard-ferrite hook magnet with a white plastic housing features a slim and sturdy design, which makes it ideal for discreetly hanging up promotional material for product presentation in exhibition spaces.
Place the rectangular magnet on the ceiling or on other ferromagnetic surfaces, such as sales displays, shelves, paneling, etc. and hang up, for instance, promotional boards or price labels with string, chain, hole or grommet on the hook.

When used outdoors, a rust film may develop on individual parts, which will not impair its function, however.
Read about more features and tips