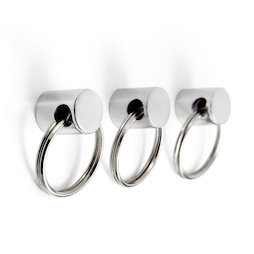 Magnetic keychain
strong neodymium magnets with keyring, set of 3
Description
Thanks to these convenient magnetic keychains you no longer need to buy a key rack. A strong magnet is built into each keychain, so going forward, your keys will stick to almost any metallic surface. These simple magnetic keychains look especially good on magnetic boards or magnetic strips. However, they do not adhere to memo boards made of glass nor do they stick to magnetic paint.
The keyring has a diameter of 25 mm. The pendant itself has a diameter of 11 mm and is 14 mm long. The adhesive force of the magnetic keychain depends on the number of keys attached as well as the surface type. Please also note: Neodymium magnets are brittle and can therefore splinter. Do not let the magnetic keychain impact a metallic surface from a distance. In addition, certain safety distances must be kept to pacemakers, credit cards and mechanical watches/clocks. You can find all the information in our
FAQ about safety distances
.
Technical data
| | |
| --- | --- |
| Article ID | M-97 |
| EAN | 7640169368400 |
| Strength | approx. 200 g (approx. 1,96 N) |
| Sticks to whiteboard | 10 A4 sheets |
| Quantity per set | 3 pieces |
| Diameter D | 25 mm |
| Brand | Trendform |
| Colour | Chrome-Coloured |
| Size | 11 x 14 mm |
| Ring size | 25 mm |
| Weight | 53 g/set |