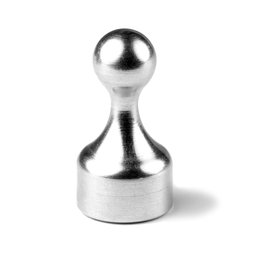 Boss Magnet small
exclusive office magnet neodymium, 30 mm high, made of aluminium
Description
Exclusive Boss Magnet (small)
The grip is made out of a piece of aluminium and a 12 x 6 mm magnetic disc has been inserted. This magnet is produced especially for us in a small workshop in Switzerland and is of the finest Swiss quality.
The magnet has an adhesive force of nearly 4 kg, is elegant, exclusive and comfortable to hold - precisely the right thing for the boss who does not wish to ruin the look of his or her designer office with tacky plastic magnets.
Thanks to the enormous adhesive force of these magnets, even thick business reports can be hung on a metal wall and up to 20 A4 sheets can be attached to a whiteboard.
Read about more features and tips