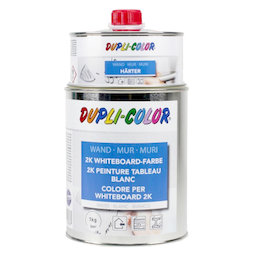 Whiteboard paint L 1litre
for an area of 6 m², white or transparent, not magnetic!
Please select your desired model.
Description
Turn every smooth surface into a whiteboard that you can write on with board markers - whether it is a large wall, a door, a cupboard or an old blackboard. "DUPLI-COLOR Whiteboard" can be used indoors as well as outdoors, for instance in living spaces, classrooms, offices, hospitals, conference rooms, etc. - practically any place where a whiteboard is needed.
Features of DUPLI-COLOR Whiteboard paint
Adheres perfectly to all smooth surfaces, such as wood, metal, brick, plastic, stone, etc.
High-gloss, water-soluble 2-component paint.
Coatings are extremely tough and do not discolour.
Perfectly resistant to hand perspiration, scratches and abrasions.
Can be combined with magnetic paint.
Note: The magnetic paint needs to dry for 2 weeks before the blackboard paint can be applied on top of it, which prevents uneven textures on the surface!
Read about more features and tips
Technical data
| | |
| --- | --- |
| Article ID | M-WP-1000 |
| Yield | 6 m² |
| Made in | Switzerland |
| Brand | DUPLI-COLOR |
| Weight | 1,2 kg |