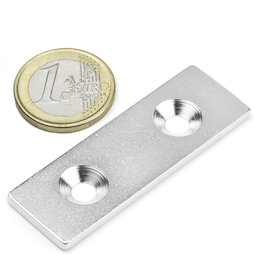 Metal disc with counterbore
60 x 20 x 3 mm, as a counterpart to magnets, not a magnet!
Description
These metal discs are the ideal base for countersunk block magnets
CS-Q-60-20-04-N
. They can be easily screwed onto non-magnetic surfaces with two countersunk head-screw. The metal discs are not rust-proof and therefore not suitable for outdoor use.
Technical data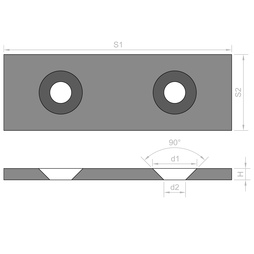 | | |
| --- | --- |
| Article ID | MC-60-20-03 |
| EAN | 7640155434171 |
| Length S1 | 60 mm |
| Length S2 | 20 mm |
| Height H | 3 mm |
| Borehole d1 | 11,7 mm |
| Borehole d2 | 5,7 mm |
| Coating | Nickel (Ni) |
| Weight | 25 g |