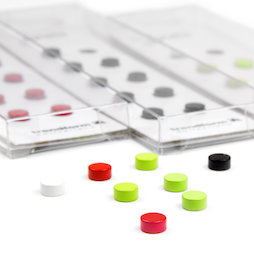 Steely
coloured neodymium magnets, set of 10, 6 x 3 mm small
Please select your desired model.
Description
Sometimes less is more: True to this motto, our tiny Steely magnets hold pictures and documents in a very stylish and inconspicuous fashion. The trendy colours add pizazz to your magnetic board, without being a distraction. These tiny Steely minis look cute, yet they are mighty powerful: A single one of these can hold 6 A4 sheets on a whiteboard without a problem.
Please note: The colour coating of the Steelys may be damaged, if they are dragged over a surface with a lot of force or allowed to collide in an uncontrolled manner. These Steely magnets pose a
choking hazard
and must be kept away from children.
Read about more features and tips