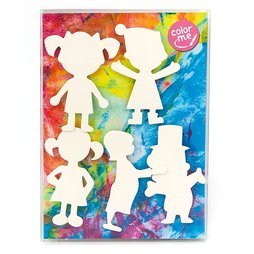 People
colour-me fridge magnets, set of 5
Description
This article is remaining stock. As soon as the inventory is sold, it will be taken out of the assortment.
Aah, how peaceful... Why is it so quiet all of a sudden? Of course, the kids are colouring! The colour-me fridge magnets are so popular that you won't hear a peep for half an hour. Maybe you should buy several packages :-)
The bright cardboard can be coloured with almost any pen: coloured pencils, markers, crayons, or even with a brush and watercolours. Pens not included.
Attention: Not for children under 4 years!
Technical data
| | |
| --- | --- |
| Article ID | LIV-77 |
| EAN | 7640161865136 |
| Strength | approx. 700 g (approx. 6,86 N) |
| Quantity per set | 5 pieces |
| Sticks to whiteboard | 8 A4 sheets |
| Brand | Trendform |
| Colour | White |
| Weight | 47 g/set |