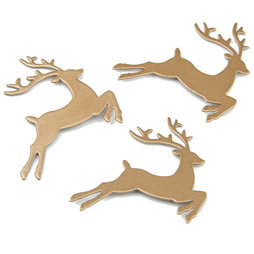 Deer
strong fridge magnets, set of 3
Unfortunately, this article is out of stock and will be removed from our assortment shortly.
Description
This article is remaining stock. As soon as the inventory is sold, it will be taken out of the assortment.
These delicate deer (or reindeer?) decorate your magnetic board or fridge not just around Christmas time but throughout the year. They shimmer in a classy copper and, thanks to a strong magnet, securely hold your cards and notes.
Technical data
| | |
| --- | --- |
| Article ID | LIV-72 |
| EAN | 7640161867055 |
| Strength | approx. 700 g (approx. 6,86 N) |
| Quantity per set | 3 pieces |
| Sticks to whiteboard | 8 A4 sheets |
| Brand | Trendform |
| Colour | Copper |
| Weight | 40 g/set |