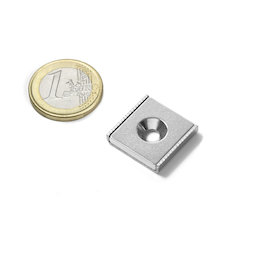 Channel magnet 20 x 20 x 4 mm
with counterbore, in U-shaped steel profile
Description
This screw-on channel magnet is a square flat countersunk block magnet, embedded in a U-shaped steel profile. With direct contact, the steel significantly strengthens the magnet's adhesive force and at the same time protects it from blows.
Its minimal thickness of only 4 mm allows for inconspicuous magnetic mounting of signs, tools and more. It is especially suitable for carpentry, kitchen installations, exhibition stand construction, shopfitting, signage technology, etc.

Please note: Neodymium magnets are brittle and can break under excessive application of force. Therefore, we recommend a maximum tightening torque of 2 Nm when fastening this channel magnet.
Read about more features and tips
Technical data