Bottle cap collection site
An eye-catcher for living room, kitchen, man cave, etc.
Online since: 27/10/2016, Number of visits: 260570
Catch bottle caps on this original magnet collector
Our longtime YouTube partner Robin L. introduced us to this original bottle cap collection board. The following step-by-step instructions show how to easily make such a collection site yourself.
Materials needed:
Wooden board (for a nicer design an old piece of drift wood)
5 wood screws
5 washers
Adhesive UHU MAX REPAIR
Possibly wire
First, place the
huge magnet
on the desired spot on the wooden board. Sketch a text of your choice (e.g. bottle caps) on the remaining area.
Fasten the washers with the appropriate screws in the pre-drilled holes. Sand down the sharp screw tips that are showing on the backside of the board.
For additional security the strong adhesive (
UHU MAX REPAIR
) is applied between and on the washers and the magnet is carefully put in place. Ideally you wait until the adhesive is fully dry. For additional security you could wrap the magnet and wood with a wire.
In the end you mount the bottle cap collector on the ceiling or high up on the wall, which is an important
security measure
for such a powerful magnet.
Now the bottle cap collection site is ready to catch the caps that you throw at him. How many is it going to hold? Even after several parties it has not reached its limit yet :-)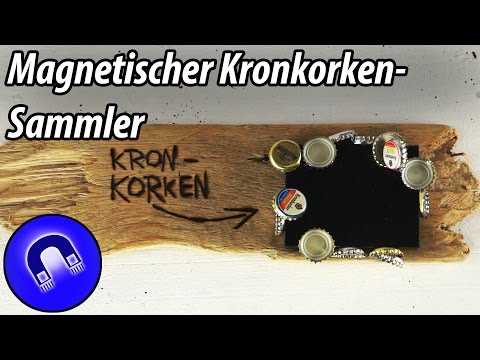 Collect bottle caps directly on the smoker
The following application comes from our customer Hauke of www.operation-eigenheim.de. He writes: "Another project left me with some wood scraps that I found too nice to throw out. This gave way to finally realise the project 'Bottle opener on the smoker'. It should be something special - regular bottle openers are too boring."
Materials needed
Left-over wood slats
Bottle opener that can be mounted on the wall
Large ferrite disc magnet FE-S-100-15
Wood glue
Epoxy resin
Brass screws
The magnet makes sure the bottle caps won't fall to the floor but stick to the bottle opener itself.
Cut the left-over wood in slightly different lengths. Glue the slats next to each other into a rustic board, press them together with screw clamps and let them dry.
Cut the depression, in which the magnet will be embedded later (15 mm), on the backside with a centre bit on a drilling machine. Chisel out the edges by hand. Glue the magnet into it with epoxy resin.
Screw on the bottle opener with brass screws to the frontside of the board.
I attached the board to the exhaust pipe of the smoker. One magnet would be enough to secure it but to avoid shifting, I added another two small wall hooks on the backside.
The result is really something and makes the perfect addition to the smoker - Cheers!